2011-2012 Catalog
[ARCHIVED CATALOG]
2011-2012 Catalog
---
Message from the President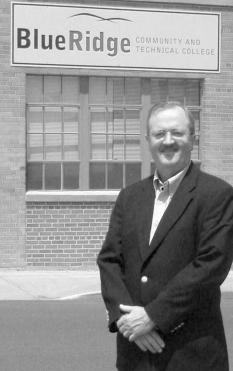 The faculty, staff, and students of Blue Ridge Community and Technical College have many things of which they can be proud. Every year, it seems, the college moves forward with incredible progress. This past year has proven to be another progressive year. We are placing students in record numbers in the job market, transferring associate degree completers to four-year colleges and universities, and building programs and facilities that will have a tremendous impact on our region for years to come.
Here are some of the major accomplishments of the college in the past year, and a brief look ahead:
We have started construction on our new building! Yes, the long awaited 55,000 square foot facility is under construction on 46 acres just west of exit 12 on Interstate 81. When completed in July of 2012, our building will house many student services, lots of new classrooms and labs, an internet café, a bookstore, administrative space, and new faculty offices. It will be a facility that will be our headquarters for many years to come.
Our enrollment growth was excellent and we topped 3800 students for the first time. When we look back at our humble beginnings, it is remarkable that we have grown so quickly. Our growth really does demonstrate that there was a need for a comprehensive community college in our region. And again, the quality of our faculty and staff and the ability of the college to place students in quality careers are two great reasons for our growth.
A major employer announced the opening of a large distribution center in Berkeley County. Macy's has begun construction of what may become the largest warehouse in West Virginia. Macy's has been increasing the growth of their internet sales and the warehouse will be a major support to increasing growth in that area of the business. Blue Ridge CTC will play a major role in educating Macy's employees.
Our students continue to achieve at very high levels. This year we have our first national winner in the Skills USA competition. Our nursing graduates continue to have a high pass rate on the NCLEX exam. Our Electric Distribution Technology students are being hired and going to work in a high wage, high demand occupation. Our Gaming Career Institute students have been hired in record numbers at Hollywood Casinos at Charles Town Races. The list goes on and on.
We also have another first. The Bruin Café opened in the spring and was highly successful in its premier. The Bruin provides unique chance to blend our culinary students with our Student Government Association in operating a small retail café. The food there is so good you can find me there on almost any day that they are open.
Opportunity abounds at Blue Ridge CTC. If you are looking for a quality education which affordable and which leads to a good career or transfer opportunity, I strongly urge you to consider us. Please contact our Enrollment Management Office to find out how you can enroll. You future could start here.
Thank you and best wishes for success in the 2011-2012 academic year!
Dr. Peter G. Checkovich, President
---
Back to Top
|

Print-Friendly Page